Finding the perfect bra can be a challenging task, but it becomes much easier once you understand your breast shape. Different breast shapes require different types of support and coverage to ensure that you're comfortable and confident all day long. Luckily, by following a few simple tips, you can choose the perfect bra for your individual shape. In this article, we'll share some valuable advice on selecting the right bra based on your breast shape. But first, if you're unsure about your breast shape, check out our breast shape cheat sheet to determine it accurately.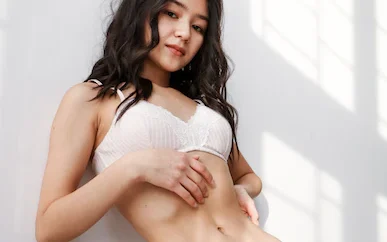 Round
A T-shirt bra, a balconette bra or a full coverage bra with molded cups will provide the necessary support and lift for round breasts.
Teardrop
A plunge bra, a push-up bra or a demi-cup bra will help create more fullness on the top and provide lift for the teardrop-shaped breasts.
East West
A bra with a side support panel or a T-shirt bra with underwire will help bring your breasts forward and create a more centered look.
Side Set
A push-up bra with padding on the sides, or a bra with a narrow center gore will help bring your breasts closer together and create the illusion of cleavage.
Asymmetric
A bra with removable pads or inserts can help create balance by adding volume to the smaller breast. You can also opt for a bra with stretchy cups that can accommodate the difference in size.
Bell Shape
A full coverage bra with a wide band and wide straps can provide the necessary support for the fuller bottom of the breasts, while a balconette bra can create a more lifted and rounded look.
Athletic
A sports bra or a bralette made of breathable and moisture-wicking material will offer the necessary support and comfort for athletic breasts. You can also opt for a bra with a compression fit to minimize movement during exercise.
It's important to note that finding the right bra for your breast shape may require some trial and error. Don't be afraid to try on several different styles and sizes to find the perfect fit.